Getting There
Unfortunately, there are no direct flights to Cabo from New Orleans, but that just means you can get more drinks at the airport to get your Mexican vacation started. We flew Delta via Atlanta, you can also go through Southwest (PS: we hear they're having a HUGE sale right now). Go book your flights!

Where We Stayed
If you're going to Cabo and you're not being flown out like a celeb, we suggest you stay at an all inclusive resort. Why? It's so much more convenient to go about your day without worrying about paying a check every time you sit down for breakfast, lunch, dinner, snack time, drink time, etc.
An all-inclusive has everything you need to sit back and relax, all you need to worry about is applying enough sunscreen and what your next drink will be. PS: We recommend you tip your pool/beach bartenders. $10 every day will go a long way during your vacation.
We stayed at The Breathless Resort by the Marina. The resort was modern, luxe and had areas for the hard core partiers, and also areas for you to relax and lounge in the most fabulous infinity pool. All-inclusives are known for not having great food, but we were amazed every time we tried one of the many restaurants at The Breathless. Their room service was fantastic.
If you're not renting a car, we recommend you stay close to the Marina, most boating activities and bars will be around that area and taxis are a bit pricey.

Where To Eat
I know we said that you should stay in an all inclusive so you don't have to worry about paying for food, buuuuut if you live to eat like us you'll definitely will want to explore a few of these as well,
Sunset Monalisa
You cannot go to Cabo and not have dinner with a view of the sunset at Sunset Monalisa . A friend who went for her five year anniversary to Cabo recommended this place and it may just be the best dinner we've had in our entire lives.
Sunset Monalisa's chef, Paolo Della Corte, is Michelin trained and creates inventive Mediterranean cuisine. The New York Times has ranked Sunset Monalisa the 5th coolest restaurant in the world.
This place does fill up, so be sure to get a reservation a few weeks in advance.
Hacienda Cocina y Cantina
Just a few steps from our hotel (literally) was this gorgeous oceanfront Cabo San Lucas hotel with a fabulous restaurant. If you're looking to eat great Mexican food, you have to come here. It's also a great spot for events in case you're going with a group, we had one of the private dining rooms with a view of Land's End.
Other Spots To Check Out,
Where To Party
As Kristin Cavallari once said,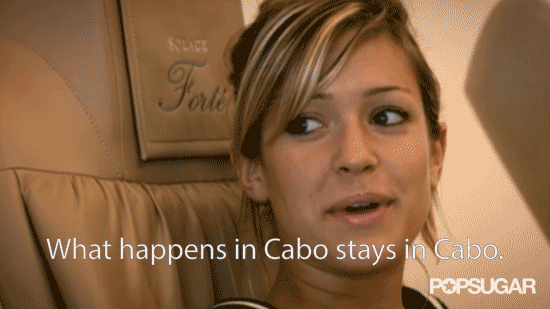 Cabo definitely knows how to party. We drank a lot during the day by the pool, so it was kind of hard to go out every night (we're not 21 anymore 😫).
El Squid Roe
We obviously had to go to El Squid Roe, I mean, you can maybe even see Bad Gal Ri Ri there. But we didn't this time #sad . We did have a blast though, our plan was to hit up as many bars as we could, but El Squid Roe was very hard to leave.
What To Do
Sail To Land's End
If you don't have a picture with the Arch of Cabo San Lucas in the background, did you even go to Cabo? Uh, no.
You must go sailing when you're in Cabo. We were fortunate enough to find Cabo Sails after going through a bunch of TripAdvisor reviews and had the best of times sailing in the Sea of Cortez and The Pacific.
We recommend you book a private boat with you and your travel group, we had some friends go in the non private ones and they did not have a good time. With a private chartered boat you get unlimited drinks and fabulous Mexican snacks while you sail, and you'll end your trip with snorkeling.
We recommend Cabo Sails for your boating adventures, they were so professional, welcoming and gave us the best service. We found that you get a discount if you booked online and not through the hotel or a travel agent.
🌵 Take me back to Cabo! 🌵
XO