Can y'all believe Thanksgiving is only a few days away? It seems like just yesterday we were working on our summer bodies, and now it's time to work on our winter bods 😂 #BringOnTheCarbs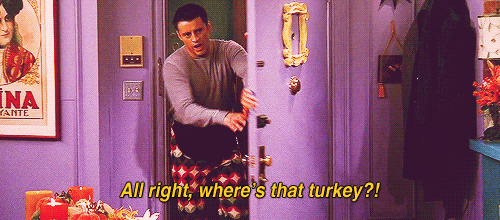 If you're not going home to momma's cooking this year, and if you aren't the Monica Geller of the group, fear not, you can still have a fab Thanksgiving dinner at some of the best restaurants in town,
Arnaud's
This fine dining institution that's about to turn 100 years old (Happy Birthday, y'all🎂), will feature a $55/person 4-course meal. Check out the fabulous menu here.
Brigsten's
Dine like a queen at home with Frank Brigtsen's Thanksgiving Take Out menu. #BabesTip: Order the Pecan Pie + Caramel Sauce. View the full menu here
Broussard's
This iconic Creole and French cuisine restaurant not only has one of the best courtyards in the whole city, but they also have one of the tastiest-looking Thanksgiving Pre-Fixe menus. Check out their $38/person menu here.
Café Adelaide
This chic spot inside the Loews Hotel will be serving up Thanksgiving dishes all day from 11am-8:30 pm. Check out their Thanksgiving specials here.
Compere Lapin
Voted Eater National's "Best Restaurants in America" 2017, Compere Lapin will feature a three-course prix-fixe meal priced at $75/person. You can try out this menu on Thanksgiving Day from 1 – 8 pm.
Curio
For the Babes on a Budget: Royal Street's newest hotspot, Curio, is where you need to go. This eclectic bistro will feature a 3-course pre-fixe for only $35, check out the menu here.
Galatoire's 33 Bar & Steak
#TreatYourself to a family-style Thanksgiving with all you can drink champagne at Galatoire's 33. For $100/person you can enjoy fried turkey breast, tons of sides, a carving station, bubbly and more. Check out the full menu here.
Josephine Estelle
In the mood for something different? Check out this Southern-inspired Italian restaurant inside the Ace Hotel. They're serving up a $55/person four-course pre-fixe that looks delicious. View the menu here.
The Roosevelt Hotel
Have Thanksgiving dinner AND Thanksgiving brunch at The Roosevelt Hotel. The luxurious brunch buffet will be served in the Waldorf Astoria Ballroom from 10:30 am – 2 pm with live entertainment from Amanda Ducorbier and the Thanksgiving four-course dinner will be served in the Fountain Lounge from 2 pm until 8 pm. Check out both menus and more info here.
Restaurant R'evolution
Celebrate Thanksgiving at Chef John Folse's swanky French Quarter restaurant. For more information, visit their website here.
SoBou
You can't go wrong with dining at SoBou. The restaurant inside the W hotel will feature a special Thanksgiving-themed menu on Thanksgiving Day. For more info visit their website.
Don't forget to book a reservations ASAP, as most of these places have already started to fill up.
Happy Thanksgiving, y'all!
XOXO