Andy Cohen: Welcome to the Clubhouse, everyone! Our original guests, the Wirkus Twins from Summer House, cancelled today, but, um, fortunately the entire cast of Southern Charm New Orleans was available to fill in. Let's welcome them to the clubhouse.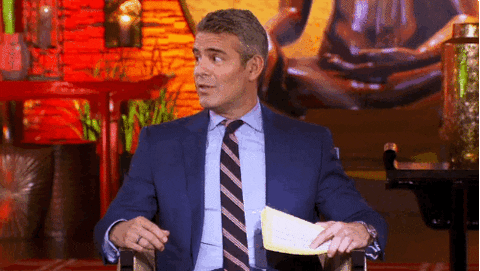 Bartending, tonight, we have Benny Poppins making coffee cocktails. If anyone hears this word at the top of your screen, (Xanax) take a sip of the alcoholic beverage of your choice, extra points if you use it to wash down a Xanax.
Anyway, this shouldn't take long because your season was very short and boring.
Hi, Tamica. Are you coming in hot today?
Tamica Lee: Hi, Andy. I just had a French 75 and Percocet for breakfast, so of I am.
Andy: Oh, fun.
How are you, Barry? Are you still homophobic?
Barry Smith: Hi, Andy. I already apologized to Gian 100 times.
A: Yeah, so that counts. How's Fuel Fitness doing?
Barry: Well, no one has cancelled any memberships since Tamica took down Gian for canceling her membership, so business is great. Beast Mode Barry is here to stay.
Andy: Hey there, Reagan.
Reagan Charleston: Hi Andyyyyyy!! You're beautifuuuuul. Here's a doorknocker pin for you.
Andy: Thanks, Reagan. I'm not contractually obligated to put this on, so I'll never wear this. But, thank you anyway. I'll put it on the ball gag that bunny is wearing.
Reagan: He looks so cayuuute. I am going to start making doorknocker jewelry for stuffed bunnies now.
Andy: OK. Reagan, how's Jeff doing?
Jeff Charleston: Hi, Andy. I'm actually here. I feel great. I am not sick and my marriage is totally healthy and normal hahaha!
Andy: Sure it is. Hi, Justin.
Justin Reese: Hey, Andy. Welcome to the Big Easy Babyyyyyy!!
Andy: Thanks, Justin, but we are actually in my studio in New York City.
Justin: Yeah, and it's just like a big ole pot of Yankee gumbo in here.
Andy. Ok. Hi, Jon. I like your turtleneck shirt with your abs airbrushed on it. You do realize it's also Summer here in New York, right?
Jon Moody: Yeah, Andy. I'm dressed as New Orleans Kanye dressed as regular
Kanye dressed as Steve jobs, because if I don't show it on the outside then how can I manifest what I want on the inside? P.S. You can buy my shirt on my Instagram feed for $200. Tell them Jon Moody sent ya.
Andy: Great, I won't. We're going to take a commercial break right now. We'll be back after a world from our sponsors Afrin Original Nasal Spray.
Andy: Welcome back, everybody. Benny Poppins had to leave, because he ran out of Xanax and his eyeballs got stuck behind his head from rolling them too hard.
We now have Mama Odie, everyone's favorite TV Voodoo priestess joining us behind the bar.
Mama Odie: The Power of Voodoo. Who do? You do! Do what? You remind me of the babe!
Andy: OK, let's get back to the Southern Charm New Orleans reunion, won't we?
Reagan, congratulations on finishing law school.
Reagan: What like it's hard?
Andy: Well, it's not Harvard.
Reagan: I was the Elle Woods with bigger boobs of Loyola.
Andy: We have a question from a Twitter follower. LoyolaStudent_18 from New Orleans, Louisiana says, "No one at Loyola calls you Legally Blonde so stop saying that. It's not a question, just clarifying for the sake of all Loyola law students."
Reagan: My boobs are probably bigger than hers.
Andy: So, what are you working on now? Are you currently practicing law?
Reagan: Right now I'm working on becoming a social media influencer. Flat Tummy Tea and Diffeye sunglasses, watch out! (wink)
Andy: What have you been doing these days, Jeff?
Jeff: I still make all the doorknocker jewelry by hand, so that keeps me busy. I also run the social media accounts and handful of orders we've received since the show aired. I walk all 57 of our dogs, and then I take selfies with Puffer Dog, dress Black Labby in tutus and rock Chi Chi the Chihuahua in his cradle. When I am not doing that, I brush my hair slicked back and then wait by the window for regain to come back home when she needs something. Oh, I have also been working on getting my MBA, in the meantime.
Andy: Sounds like you've been busy.
Regan, you were really hard on Jeff the night of the painting party. Looking back, do you regret causing a scene and being so hard on him? It doesn't seem like he was doing anything wrong.
Reagan: Andy, do you see my man? Hubba hubba. I just didn't trust those girls at the party around this hunk
Andy: Yes, I see him. I don't think anyone was trying to take Jeff away from you.
Reagan: They were all over him. He's so hot. You should see him when he's buying me Chanel.
Andy: How's your relationship doing now? Right after the last episode, you released a statement that you two had separated.
Reagan: Yeah, but I love himmmm. We're not getting a divorce, Andy. I'm doing this for us, so I don't have to listen to his mouth breathing from the third floor and he can still take me shopping. I mean, he's sick, Andy. He needs me, just not in the same house.
Andy: Um, that makes very little sense, but OK.
Tamica, why were you so upset about the painting party? Barry wasn't doing anything wrong either. He actually let you know what was going on.
Tamica: Andy, you do not have a party and not invite Tamica. End (snap) Of (snap) Story (snap)
Andy: How is your relationship now? Did you guys have sex in the bathroom at the finale party and have you gotten the romance back in the relationship?
Tamica: Listen, Andy: marriage is hard. Everyone goes through a 2-3 year drought at some point. I can't host a low rent, local entrainment show, delegate dinner plans, fix my hair, drink lunch, make Cameo videos AND have sex with my husband.
And, no, we did not have sex in the bathroom, because that would have messed up my hair. Barry did some sit-ups and I flossed my teeth.
Andy: OK, moving on. Justin, how's your relationship? Are you and Kelsey still living at home with your parents?
Justin: We are great. Going on two years now. Kelsey is great at keeping our room clean, so mom just extended our curfew.
Andy: Are you going to be proposing anytime soon?
Justin: Nah, Andy. This is not a sprint. It's more of a marathon, if you had to run 26 miles, while dealing with Tamica, then moving in with my parents and then slaying a dragon.
Andy: Reagan and Jeff, are you still living on the north shore? It seems like you both would rather live in New Orleans, so why not just live there full time?
Reagan: Well, I really like the Olive Garden and my house on the north shore has that same design aesthetic, as well as an Olive Garden nearby. When you're here, you're family! And New Orleans doesn't have an Olive Garden.
Jeff: Yeah (awkward, eye popping out look)
Andy: Jon, how are your relationships going?
Jon: A relationship with Jon Moody is one you don't talk about, but just show through a series of ab twitches. You can't be Jon Moody if you give away the information.
Andy: I don't think I am following.
Jon: To understand a Jon Moody thought trajectory is to read it like a tweet.
Andy: Are you still the only cast member that actually lives in New Orleans proper?
Jon: I don't live in New Orleans. I live in my art. My art lives in New Orleans, or at least the idea of New Orleans.
Andy: OK.
Barry and Tamica, how is your relationship with Gian these days?
Tamica: I extended an olive branch because I was bored with her storyline, but I still think she wants to be me very badly and she's an opportunist who wants to take advantage of my fame.
Andy: What fame is that?
Tamica: Everyone knows who I am, Andy. The tens of people who watched my show, the people who accidently watch News With a Twist, my Instagram followers, my dry cleaner….the list goes on.
Andy: Barry, do you think you will do business with her in the future?
Barry: And—
Tamica: He already apologized, so there's nothing else to discuss, because she lacks emotional intelligence.
Barry: I would actually like it if she could help me open a second location or expand my client base. Maybe even help me come up with a new slogan besides "Beast Mode Barry."
Andy: I think that's it for our reunion. Do you guys have any closing thoughts?
Tamica: It may seem like I hate my husband, but I don't. Our relationship is like New Orleans – it's political climate is disappointing, the potholes are so bad I need a new rental car each week, street lights sometimes don't work, we never have sex, there's a huge socioeconomic disparity, but, at the end of the day, I'm still stuck here.
Barry: (had to leave to pick up the kids from school)
Jon: Believe 33% of what everyone says and 98.9% of what Jon Moody says and you'll become a world changer, too.
Jeff: I really love being married and walking my dogs.
Reagan: I'm available!
Mama Odie: Boom Shaka Laka!
Justin: At the end of the day, we are all like a big pot of gumbo: my mom makes the best roux, then Tamica comes in hot, Reagan makes it in a hoop skirt, Jeff is obviously the white rice, then you burn the roof of your mouth on it and you can call one of the personal injury attorneys at the King firm when you need to sue.