It's the most wonderful time of the NOLA year: last night marked the official start of Mardi Gras season! We're so ready to (break our New Year's resolutions and) dig in to all of the king cakes.
These are the ones we can't wait to eat this year,
Glittery King Cake
Sucré – multiple locations and also available online.

Sucre's signature buttery danish pastry is sweetened by cinnamon and raw cane sugar then baked with a light layer of creole cream cheese. Plus it's covered in glitter, making it oh so extra.
King Cake Cheesecake
Copeland's Cheescake Bistro – 2001 St Charles Ave, New Orleans, LA 70130

Copeland's has combined two of our favorite desserts: king cake and cheesecake. Trust us, you do not want to miss out on this one this year.
Cuccidati King Cake
District Donuts – multiple locations and also available online.
This king cake is based on the Italian Fig Cookie, they take a brioche dough and stuff it with a filling of fig, date, walnut, raisin, honey, orange, and spices. It's then finished with a vanilla bean glaze and nonperils.
Pecan Praline King Cake
Gracious Bakery – multiple locations

Every year, Gracious Bakery surprises us with their creative flavors, and they're always delicious. This year, we're particularly intrigued by the Valrhona Pecan Praline filled King Cake glazed and topped with candied pecans.
Mardi Gras Layer Cake
Beth Biundo Sweets – 3917 Baronne St, New Orleans, LA 70115
Technically not a king cake, but it's definitely a cake fit for a king (or a queen). You'll definitely want to swing by Beth Biundo's and snap the perfect insta of this layered Mardi Gras cake.
Caramel Crunch King Cake
Willa Jean – 611 O'Keefe Ave, New Orleans, LA 70113, you can also order online for pick up

Bronwen Wyatt, Willa Jean's newest pastry chef, is making her king cake debut and we are so impressed. Caramel Crunch King cake + cinnamon + cream cheese glaze,
Cream Cheese Filled King Cake
Gambino's Bakery – Multiple Locations and also available online.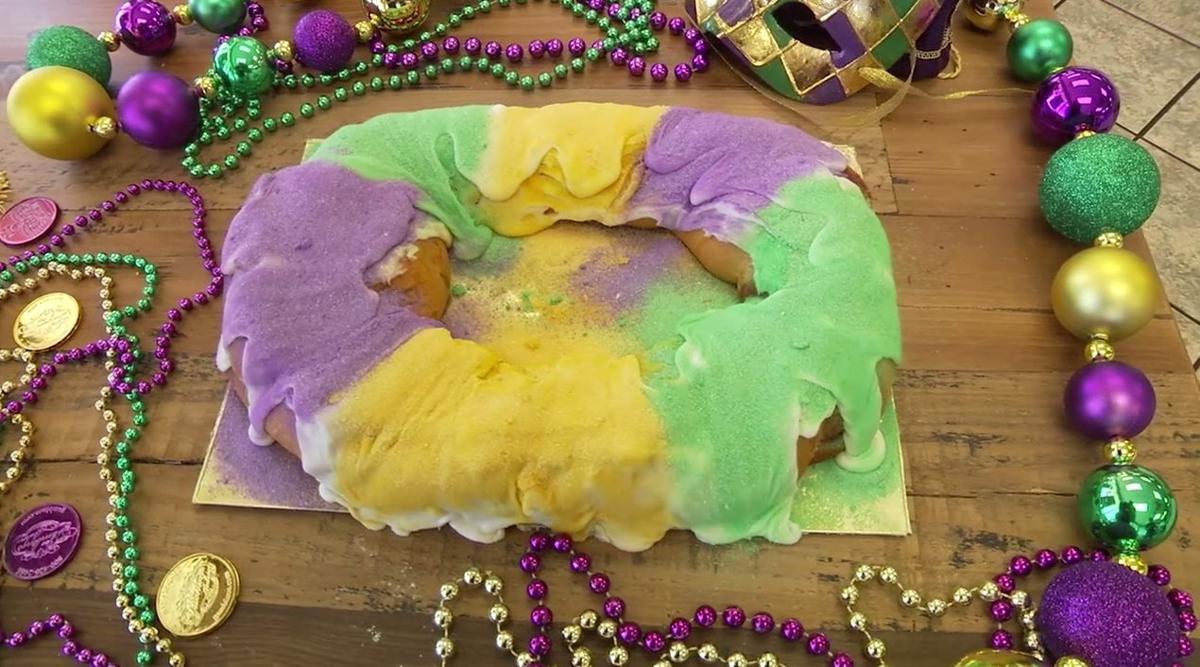 An oldie but always a goodie, if you're into the traditional king cakes or intro trying out tons of different feelings you have to try Gambino's king cake.
Babka King Cake
Shaya Restaurant – 4213 Magazine Street New Orleans, Louisiana 70115, you can also order online for pick up.
This non-traditional babka cake is one of our favorites. Though we've tried it in Mardi Gras past, we can't wait to cheat on our diets with a slice of this beauty.
And because we love king cake and y'all so much, we'll be giving away king cakes every week on our Instagram. So, head over to @babesandbeignets and enter to win one of these fabulous Mardi Gras treats.
Happy Carnival y'all!
XOXO