Whether we like it or not, wedding season is here and it doesn't seem like it's ever going to end. From countless engagement posts of your Facebook and Insta to having countless bridal showers every weekend, we might as well just embrace the fact that we'll be going to weddings till the end of the century.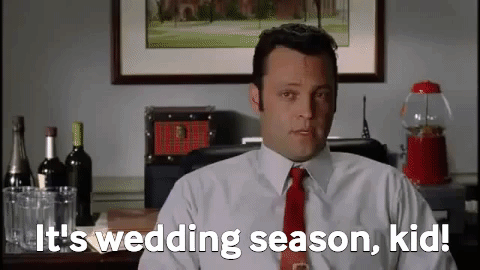 Don't get us wrong, we love weddings, especially those with open bars. (#RealTalk: Does anyone even go to non open bar weddings?). But after getting your friends the same engagement presents over and over again, we found ourselves thinking, what do brides really want? They are going to get a million Mr & Mrs mugs and champagne glasses, and those Feyoncé tanks are sooo 2016.
We went to our married friends, and also did a few Instagram searches and we found a couple of creative gifts we're sure no one has gotten them yet. Spoil the bride-to-be with these cute items, and maybe you'll save yourself from her going all Bridezilla on you as the big day approaches 😂😂😂
'She Said Yes!' Box
Over the Holiday season, we found V. Paperie, a paper goods subscription box service with a focus on fine paper products, stationery, and fun desk accessories and gifts. This year, V. Paperie has come up with a box for brides (there's 2 options, once is $55 and the other one is $100), and you'll fall in love with the items even if you're not getting married. Seriously, we were about to start planning our weddings on that adorable wedding planner. Check the boxes out here.
Get Her The Best Wedding Website Ever
Move over The Knot websites, the new stylish wedding website in town is powered by Appy Couple. These sites and apps are chic, they are modern, they have tons of designs and make it easy for guests to RSVP for the multiple events on the special weekend. This gift is especially perfect for the technologically challenged bride. Extra points if you help her set it up! Check Appy Couple out here.
A Photo Shoot
This is the bride's time to shine, so you know she's gonna be all about those additional photo opps. Give your girlfriend the gift of the perfect Insta with one of our favorite photographers in town, Mary Katherine Creative. We're especially obsessed with her Muse Rebellion photoshoots, read more about Mary Katherine here.
A Treat Yo'self Girls Date
There are many ways to say congrats, and one of them is taking your girl out for a day or night of relaxation. After all, she'll be stressed out for months planning her perfect day. Check out the Treat Yo'self Guide we wrote recently for ideas on how to spoil the bride.
Now, stop obsessing on when it'll be your turn to get engaged and start celebrating your friends. Who knows, maybe you'll even be promoted to Maid of Honor after getting them one of these badass presents.
Cheers!