Celebrating Valentine's Day when you have a significant other is nice but you know what is even nicer? Celebrating Galentine's Day every year with your best babes!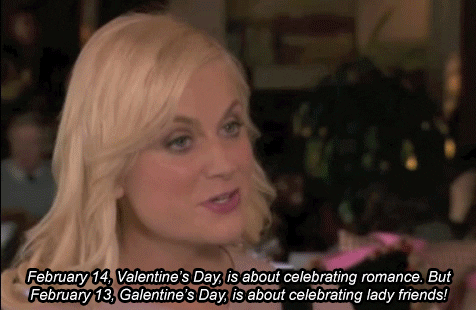 With the pandemic, it's no always easy (or safe) to have a large gathering but that doesn't mean you can't celebrate special occasions like these – you just have to get a little bit creative.
Host an outdoor movie night for your besties
90's movies, wine, snacks and s'mores anyone? Host the greatest Galentine's Day celebration for your besties in your back yard! I hosted an outdoor movie night for Halloween and it was so much fun; everyone felt extra safe as we were not inside an enclosed space and there was plenty of space to stay 6 ft apart. If you don't have a projector, fear not! Get this one on Amazon Prime (under $70!) so you can have it delivered ASAP. You will also need a screen to hang (under $30!), unless you have a white wall in your backyard/patio.
Have a small picnic at a local park
I love having picnics at Memorial Park in Houston, you feel like you're in a far away European city! Galentine's Day is on a Saturday so I recommend you schedule your picnic in the early afternoon so you have plenty of sunlight during the picnic. Divide the shopping list amongst your small group of friends so no one is stuck with a huge grocery store bill (I highly recommend shopping for your picnic at Central Market – best grocery store EVER):
Different types of cheese
A variety of charcuterie
Wine, duh
Plastic cups, plates and cutlery
Napkins
Something sweet
Don't forget your picnic blanket
If you'll be drinking lots of wine, don't forget to Uber there and back 😉. DWIs are not cool!
Take a road trip with your best friend
Whether it's a day trip or a weekend-long trip, a road trip with your best friend + blasting Taylor Swift on the radio = the best time ever! Galentine's Day is only a few days away so start with a budget and then get to planning.
Don't forget to pack lots of snacks for when you're on the road! Check out our travel section for destination inspo.
Toast to female friendships with a virtual wine tasting
We know, we know….we're all kind of over Zoom parties. However, some of us don't have the luxury of living in the same city as our besties. A virtual wine tasting can go two ways:
Improvised wine tasting: plan on buying the same wines and cheeses, while on the call taste them and discuss which flavors you pick up on. Then proceed to keep drinking the wine while you catch up and gossip on the latest celebrity scandal (follow @DeauxMoi if you need conversations starters LOL).
Wine tasting with a pro: There are various retailers and wineries hosting sommelier-led virtual wine tastings. They can be quite pricey but if you haven't gone out in ages and are willing to splurge, check out this list of virtual wine tastings for your Galentine's Day celebration!
Eat al fresco at your favorite local restaurant
If you are comfortable with dining at a restaurant, make a reservation for a small group and treat yourselves to a nice meal! Here are a few local Houston restaurants who will be having special Valentine's Day menus,
Guard and Grace: downtown Houston's swoon-worthy destination Guard and Grace will offer a special three-course prix fix dinner menu ($95 per person) Friday, February 12 through Sunday, February 14.
La Lucha: In addition to their regular menu, La Lucha will be offering a special selection of dishes (dinner only) over Valentine's Day weekend. Additions include Poor Man's Plateau, consisting of marinated crab fingers, crab and shrimp campechana, smoked redfish dip, shrimp cocktail, dozen oysters, and Cajun caviar ($79.95), Crawfish Ravioli ($19.95), Grilled Maine Lobster ($52), 8 oz prime filet ($49), and a S'more ($9).
Mutiny Wine Room: Mutiny will offer a special three-course prix fixe wine pairing dinner that also includes a special wine flight for two in their Tasting Room (reservations required). Rather celebrate at home? No problem, order Mutiny's special Champagne & Dessert Take-Away Package to enjoy anytime, anywhere.
Happy Galentine's Day, babes!
xo,
Just so you know, these affiliate links are what keep the blog alive. We appreciate your love and support.